Hi friends,
Take a detour with me… to the used car lot.
For at least a year, the used car market has been insane, because the new car market has been insane, because supply chains are complicated, and your car has more microchips than we sent to the moon—a LOT more—for reasons well beyond the grasp of this humble real estate newsletter.
Love cars or loathe them, just hope you don't need to buy one.
Until now, that is! The used car market is finally coming down, all the way back to… well, about nine months ago, so far.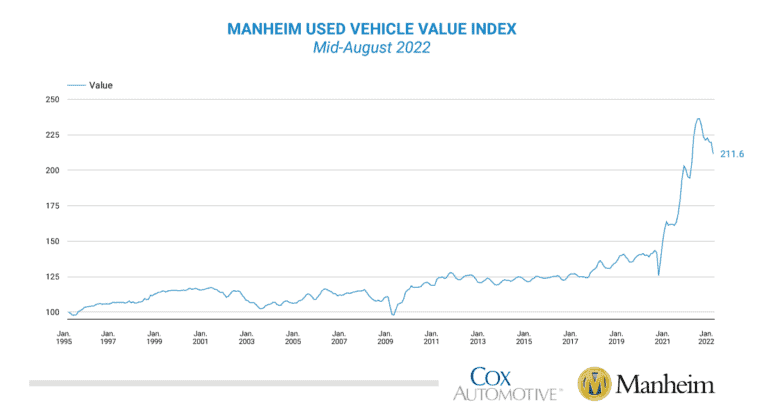 Clearly, there's still a long way for used-vehicle prices to potentially fall. But will they crash all the way back down to earth? Considering that the chip shortage and supply chain issues are still going strong, probably not.
For this recent hit to your car's Kelly Blue Book value, the main culprit is reduced demand, engineered by the Fed via interest rate hikes.
Not unlike real estate prices!
The latest August numbers show overall median price-per-square-foot down ~4% year-over-year in San Francisco, $100 below the peak of $1,169 this spring (3-month rolling average reported by SFAR/InfoSparks). That's significant, yet not too far from the standard deviation that happens naturally in a seasonal market.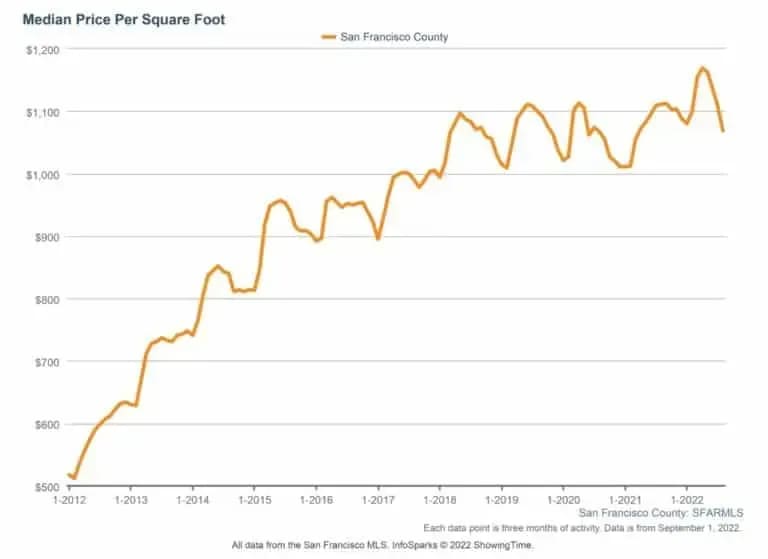 Price-per-square-foot has more than doubled in the last decade in San Francisco.
The question is, when does buyer demand rise to the occasion and snag a deal?
It's already happening in the SF Bay Area real estate market. Quite a few buyers are hopping off the fence, many financing with a 5, 7 or 10-year ARM for their more attractive rates.
Rather than timing the market, our advice (as always) is to buy the best property you can, as soon as you can, and let the scarcity of Bay Area real estate work its magic for you over the long term. We're here to help with the details.
When it comes to cars—famously NOT a great store of value—the market may yet have a long way to fall. Maybe it's time for some new wheels?
As always, please feel free to reach out with any real estate questions. We are happy and grateful to help you and anyone you send our way!
Warmly,
The Vivre Real Estate team
---
Bay Area Real Estate Updates
This article is an excerpt from our email newsletter. To get the next edition directly in your inbox, subscribe today for free!
Twice a month, you'll receive our latest take on the market, local news, culture and events. We value your trust and privacy, so we never spam, nor sell or share your information.
---
Off the Presses

Articles Featured in the Vivre Real Estate Newsletter
---
JOIE de VIVRE

Events, Community & Things We Love

Precious Cargo
Ruff Life
A Wee Bit Country