San Francisco Pacific Heights Condo For Sale
Here's my latest SFhotlist Deal of the Week, a full-floor condominium in prime Pacific Heights, San Francisco, only steps away from Lafayette Park.
Actually... Before we dive in, can I tell you a little more about the neighborhood? Pacific Heights is one of my favorite communities in SF! (Here's a teaser photo of our Deal of the Week—but if you simply can't wait, just scroll down! 😉)
This Deal of the Week displays gorgeous Art Deco style.
About Pacific Heights: A Coveted San Francisco Gem
Picture this: you're strolling through tree-lined streets with stunning views of the San Francisco Bay, surrounded by iconic Victorian mansions and modern, luxury homes. You've just entered Pacific Heights, one of the most sought-after (and priciest!) neighborhoods in San Francisco. Today for our "Deal of the Week," we're taking a casual walk through this beautiful neighborhood, discussing why it's so desirable and touching on some of its fascinating history and amenities.
What makes Pacific Heights so alluring? The neighborhood boasts a perfect blend of old-world charm and modern elegance. The grand Victorian mansions, some of which were built in the late 1800s, are not only a testament to the area's rich history but also provide an enchanting atmosphere that's hard to find elsewhere. The classic architecture is complemented by upscale boutiques, trendy restaurants, and picturesque parks, making it an ideal spot for both families and young professionals.
History of Pacific Heights, San Francisco
The neighborhood's history dates back to the 1850s when it was primarily used as farmland. However, after the devastating 1906 earthquake, many San Francisco residents decided to rebuild their homes in Pacific Heights, leading to the construction of some of the city's most breathtaking and historically significant residences. Notable examples include the Haas-Lilienthal House and the Spreckels Mansion, both of which are now popular tourist attractions.
Pacific Heights Parks
One of the most beloved aspects of Pacific Heights is its ample green space. Lafayette Park and Alta Plaza Park provide residents with beautiful, well-maintained spaces for recreation, relaxation, and picnics with stunning views of the bay. These parks are also dog-friendly, so your furry friends can enjoy the neighborhood too!
In addition to its natural beauty, Pacific Heights offers a variety of amenities to its residents. Fillmore Street, one of the main thoroughfares in the area, is lined with high-end boutiques, chic cafes, and mouth-watering dining options that cater to diverse tastes. The neighborhood is also known for its excellent schools and strong sense of community, making it a perfect place to call home.
So, if you're in search of a prestigious neighborhood with a rich history, charming architecture, and top-notch amenities, Pacific Heights should definitely be on your list. And if you have, say... around $1.7M burning a hole in your pocket? Then do I have the home for you! (Even if you want something different, we have the best Realtors in San Francisco to help.)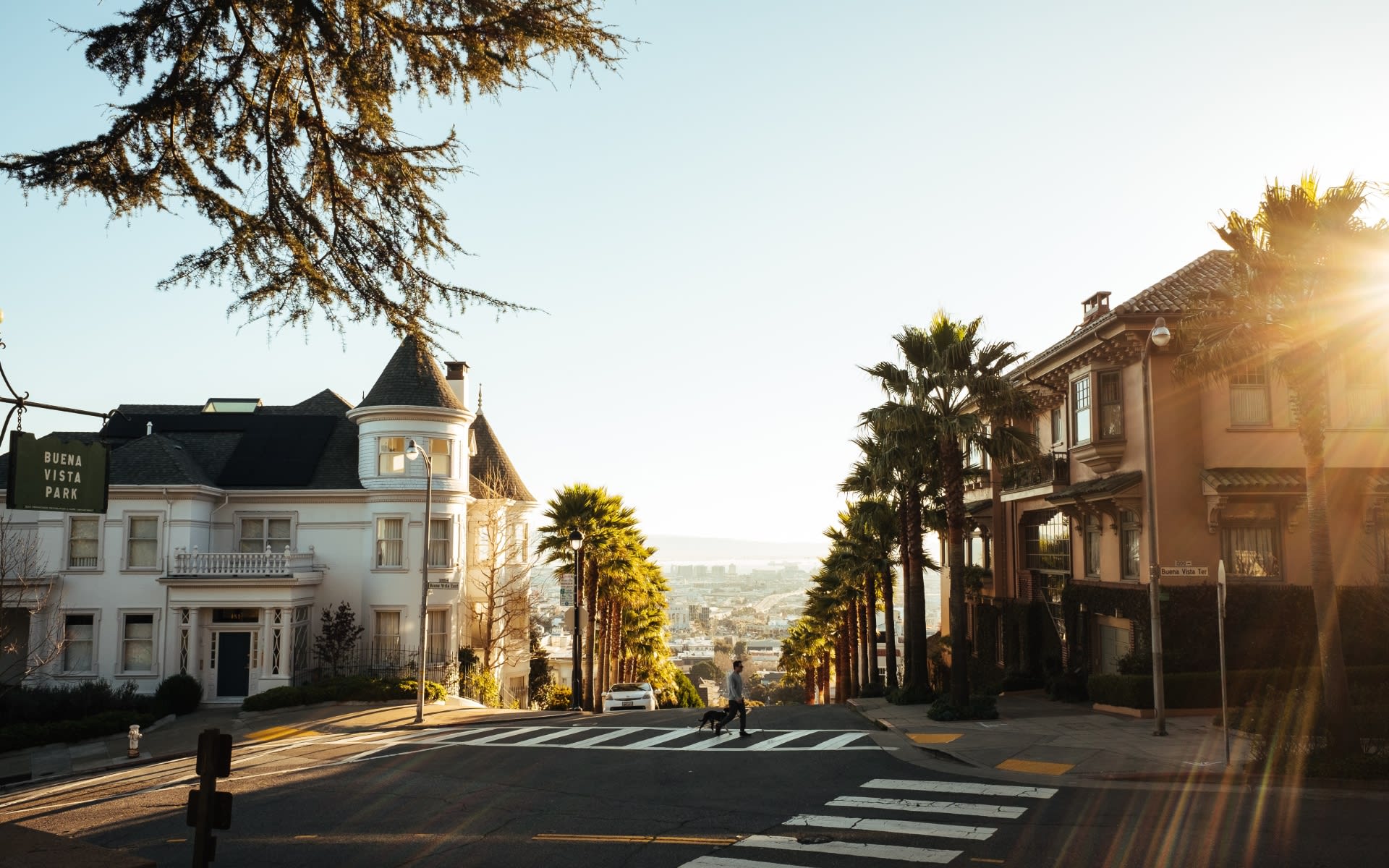 This Week's Deal of the Week is a Gorgeous Pac Heights Condo
This one's a "pre-war," as they would say back east: built circa 1939, with elegant Art Deco architectural elements peppered throughout the home. Built-ins flank a fireplace in the graceful main living area. Three beds and two full baths offer plenty of room to boot! Here are the most important points.
Key Details
Full-floor Pacific Heights condo flat

3 bedrooms, 2 full bathrooms

2 attached garage spaces

Washer and dryer in-unit

Listed for ~$1.7 million
My Highlights
No outdoor space, but it's steps from Lafayette Park

Gorgeous Art Deco design (arches everywhere!)

Updated kitchen and bathrooms

Primary suite has large closet/vanity area leading to a beautifully updated primary bath

Designated formal dining room

Lots of built-ins
If you are interested, just contact me and I will get you all the details!
- Katie Funk, San Francisco Realtor®
Want to buy or search luxury real estate, luxury homes and luxury condos for sale in Pacific Heights, San Francisco? Do you have a property to sell and want to work with the best Pacific Heights luxury real estate agents in SF? We can help! Our boutique collective of San Francisco Realtors® has a long and proven track record as negotiations experts in Pacific Heights, San Francisco, and around the greater SF Bay Area—with hundreds of 5-star San Francisco Realtor® reviews to show for it. When the time comes to buy or sell, we are here to provide trusted advisory information.