What to Do As a Trustee Selling Your San Francisco Family Home
This is a real estate case study about the trustee to a parent's family home in San Francisco and how we helped her decide the right step forward—whether to fix up the property or sell it as-is, and how to make the most of her family's legacy.
It's also a story about the power of example. Real estate is extremely personal. What we ask from our homes, and how we live in them, are as unique as every individual. Yet many of the concerns that buyers and sellers bring to us as their San Francisco real estate agents are actually quite commonplace.
Is it crazy to think that someone else has been in your situation? Would you be surprised that our team knows how to help because we've been there before?
We started this series of San Francisco Real Estate Case Studies to reassure homebuyers and sellers that your concerns are valid, your goals are achievable, and that you are not alone in this process. We are here to help!
San Francisco Fixer-Upper: Upgrade or Sell As-Is?
We met this particular client after she read our case study on a Pre-Market Home Sale in Potrero Hill. She resonated with that seller's situation, which sounded so similar to her own: a beloved family home, with outdated style and deferred maintenance, and no one in the family around to live in and fix up the property. All decision-makers were in agreement to sell. But how?
During our initial Zoom listing consultation (our client's first Zoom ever!), we discussed the pros and cons of an "as-is" sale.
What Are the Pros of Selling As-Is?
You might consider selling as-is to save time and money (up front). An "as-is" sale means the buyer takes the property in its current condition, with no additional upgrades or repairs. This can be beneficial for sellers whose property is a fixer-upper requiring a serious amount of work, and/or for those who do not want a drawn-out listing process of home preparation and marketing. Selling as-is allows you to put the property on the market essentially straight away, without investing extra time and money up front.
What Are the Cons of Selling As-Is?
Selling as-is will almost always net you less money at the end of the day. Yes, you can save up-front by sidestepping repairs and improvements. However, buyers will price this into their offers. Don't expect your as-is home to fetch as much as if it were in pristine condition.
Additionally, selling as-is will limit your pool of potential buyers to those who are willing to invest that time and money themselves. Most San Francisco homes for sale are touched-up and professionally staged before they hit the market.
At these real estate prices and this level of competition for the best, move-in-ready properties, it often makes the most economic sense to move out, prepare and stage your property to be sold. The idea is that you will recoup that up-front investment—and then some—via a higher ultimate selling price. This is the tried-and-true method to maximize your outcome as a San Francisco seller, and it's what we recommend to most—but not everyone! Because…
The Right Answer is What's Right for You
Back to our story, after going over the market conditions, the seller's concerns, and her objectives, we decided to work together on the sale. We signed all the listing paperwork via DocuSign. Then we scheduled a meeting at the home to assess the condition and see what would make the most sense in terms of doing any presale enhancements or fix-ups.
Unlike our Potrero Hill sale which needed lots of work, this home was in mostly original condition (ie. outdated) but it had been really well maintained. You could tell that the family cared for the home and kept it up over the years. We felt it would benefit from some light cosmetic improvements—removing old carpet to reveal the hardwood floors, swapping linoleum for flooring, painting—and, of course, staging.
With these simple updates, we knew that homebuyers would see the home as a great opportunity to get into Bernal Heights. They could move in now and do remodeling down the road as they desired over time. Plus, our seller was such a delight to work with! She really trusted our process and agreed to the preparation and pricing plan.
The Results
And it worked! Even in a tricky market where many sellers were having trouble getting their home sold, we got an exceptional result for our seller. Danielle (Vivre founder and lead listing strategist) is very direct and honest with clients. They don't always like to hear it, but if they follow our advice and plan, good things tend to happen!
Here are some before and after shots that demonstrate the difference that even simple cosmetic updates can achieve.
Living room before/after.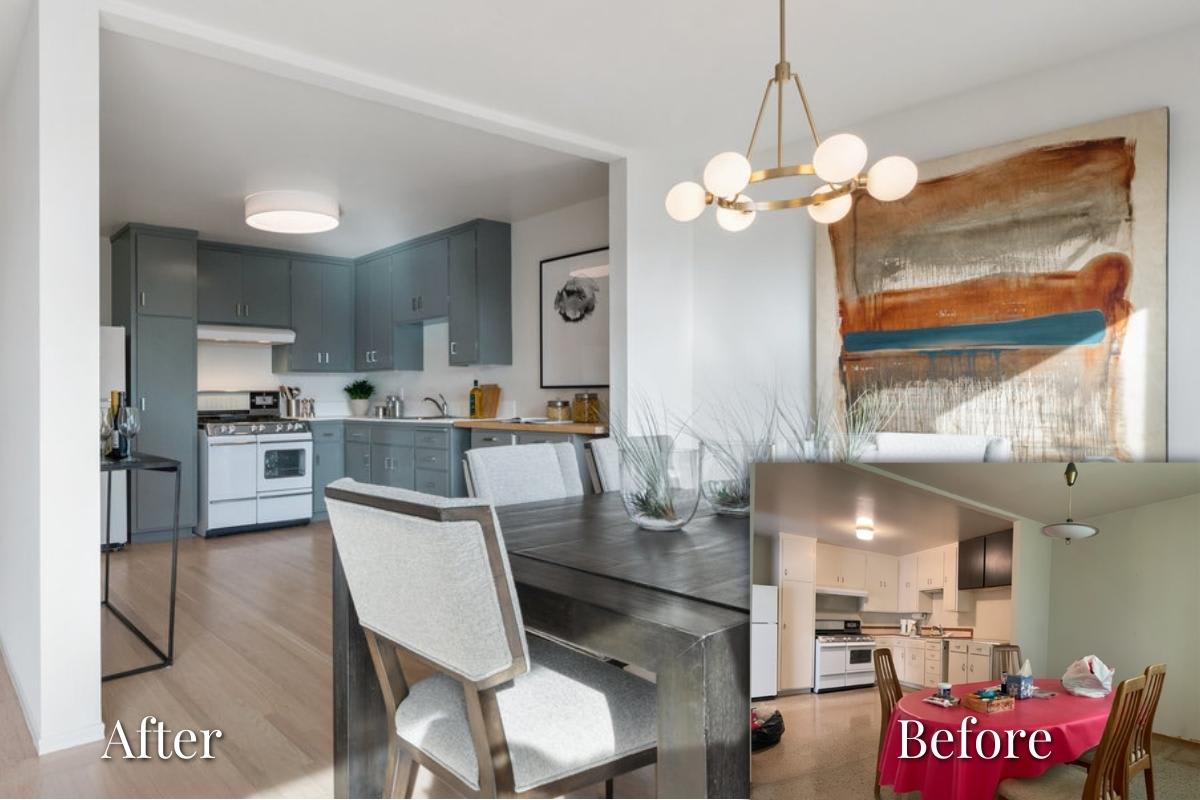 Dining room before/after.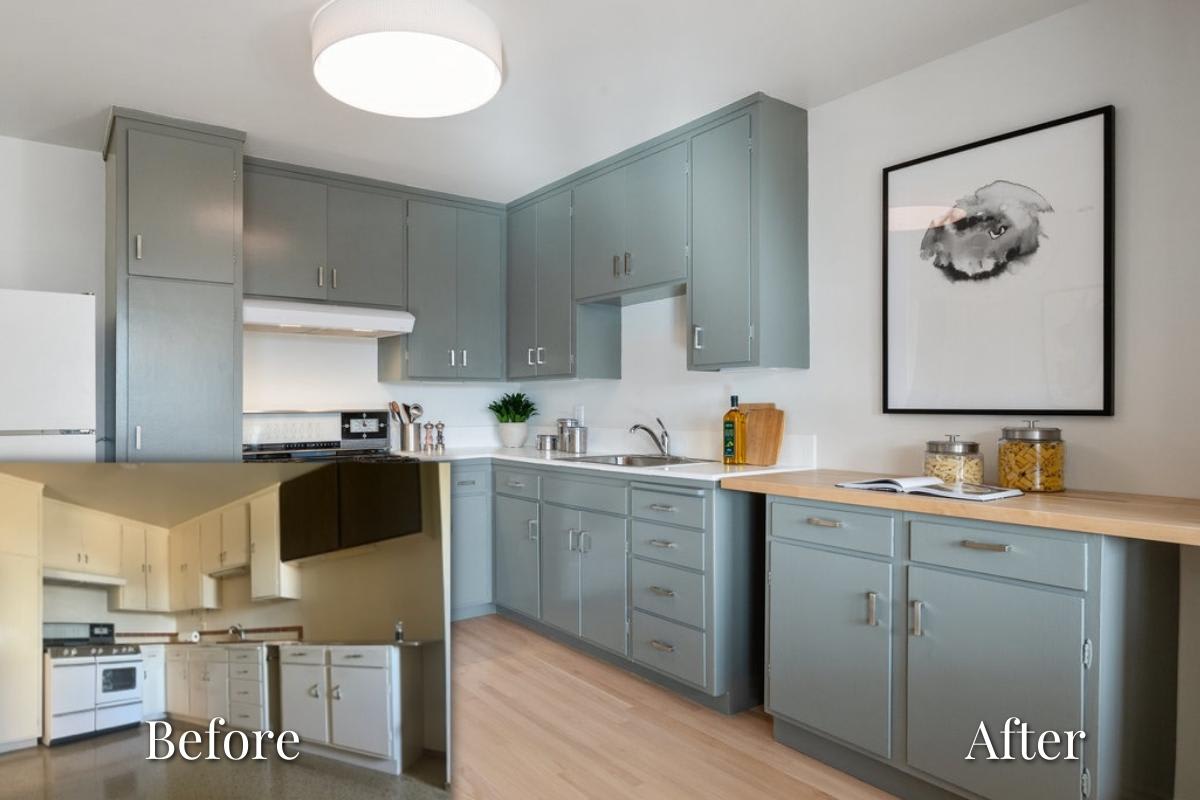 Kitchen before/after.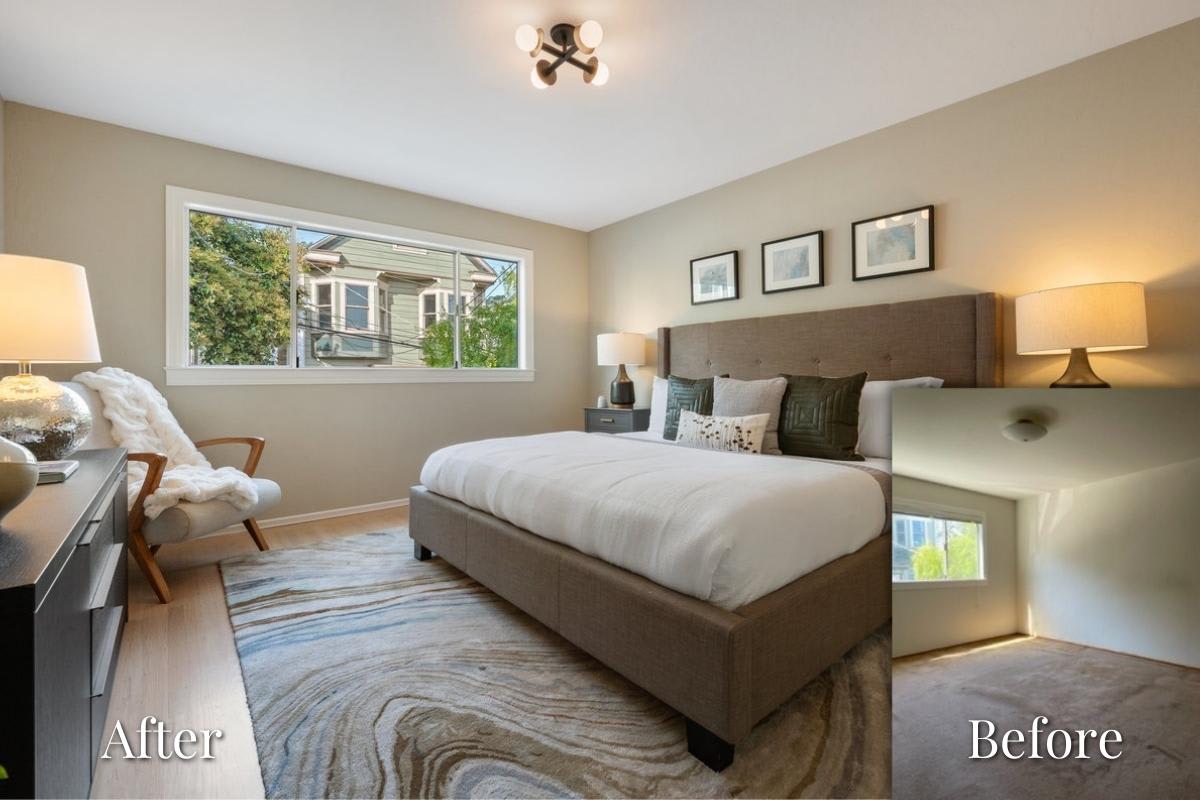 Bedroom before/after.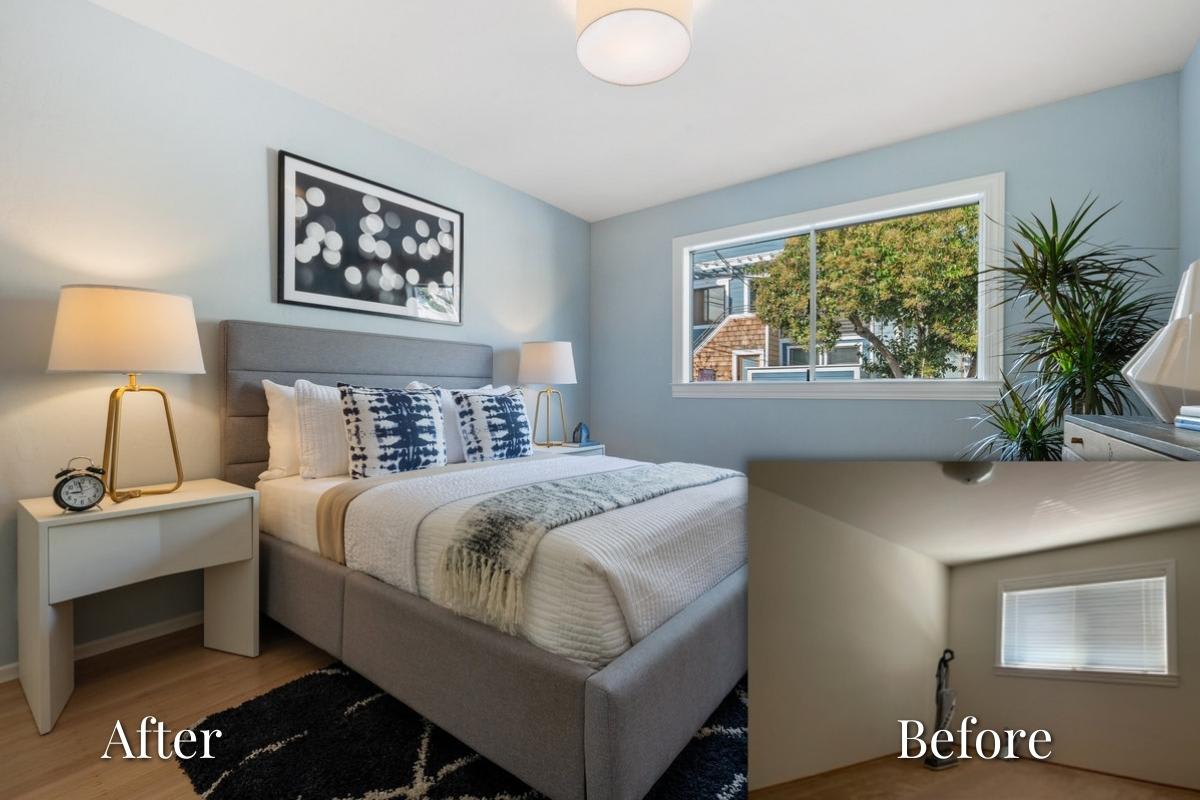 Bedroom 2 before/after.
And here's our seller's 5-star review of working with our team!
"If you are looking for a Realtor, I highly recommend that you contact Danielle before talking with anyone else. She posted a Case Study on her website that described a situation similar to ours, so I initially reached out to her to get her thoughts.
She listened carefully and went over each of the questions I raised. By the end of our session, I felt she was the only one I wanted to work with; there was no need to talk to any other Realtor.
Being a first timer, the selling process can be overwhelming, but after talking with Danielle, I threw out my preconceived notions and let Danielle and her team guide me. Her experience and instincts are right on target in terms of pricing, timing and marketing.
The staging and design company she works with did a phenomenal job in delivering on time. Her support team were outstanding in guiding us through the countless disclosure docs and reports that are required. We received multiple offers after the first weekend of open house. Needless to say, we were extremely happy with the outcome. We couldn't have done it without her help. I'd give her ten stars if I could."
Best San Francisco Listing Agents
Do you resonate with this San Francisco home seller's situation? Maybe you have other questions about the listing process and how to prepare your home for sale? We would love to chat with you and answer all your questions. At no obligation, please contact us to schedule a consultation.
As top San Francisco real estate agents for 20+ years with more than $1 billion in home sales, we have the experience, network and skills to address your concerns and reach your real estate goals. Our boutique collective at Vivre Real Estate consists of specialists at every level, offering you a full-service real estate experience that only a team of experts can consistently provide.
When the time comes, we would love to help enhance your home life here in the San Francisco Bay Area—by getting you into the home you want, and getting more from the home you have now. Till then, stay up to date by signing up for the Vivre Real Estate newsletter, our monthly email packed with valuable real estate news and market information, SF Bay Area events, culture and more. Just share your email address below to subscribe. Talk soon!