Mortgage rates are up sixty percent since the start of the year.
For a homebuyer crunching the numbers, the difference between three and five percent interest is considerable.
Yet, so far, the real estate sky is not falling. Why?
Two things, if you'll allow us to postulate.
First is that our severe lack of supply remains the dominant force in the market. To dethrone the long-reigning champ of Bay Area housing trends, it seems it will take more than 5% mortgage rates—maybe a whole lot more.
Which gets to a second point: it helps if you zoom out.
Historical Perspective on Mortgage Rates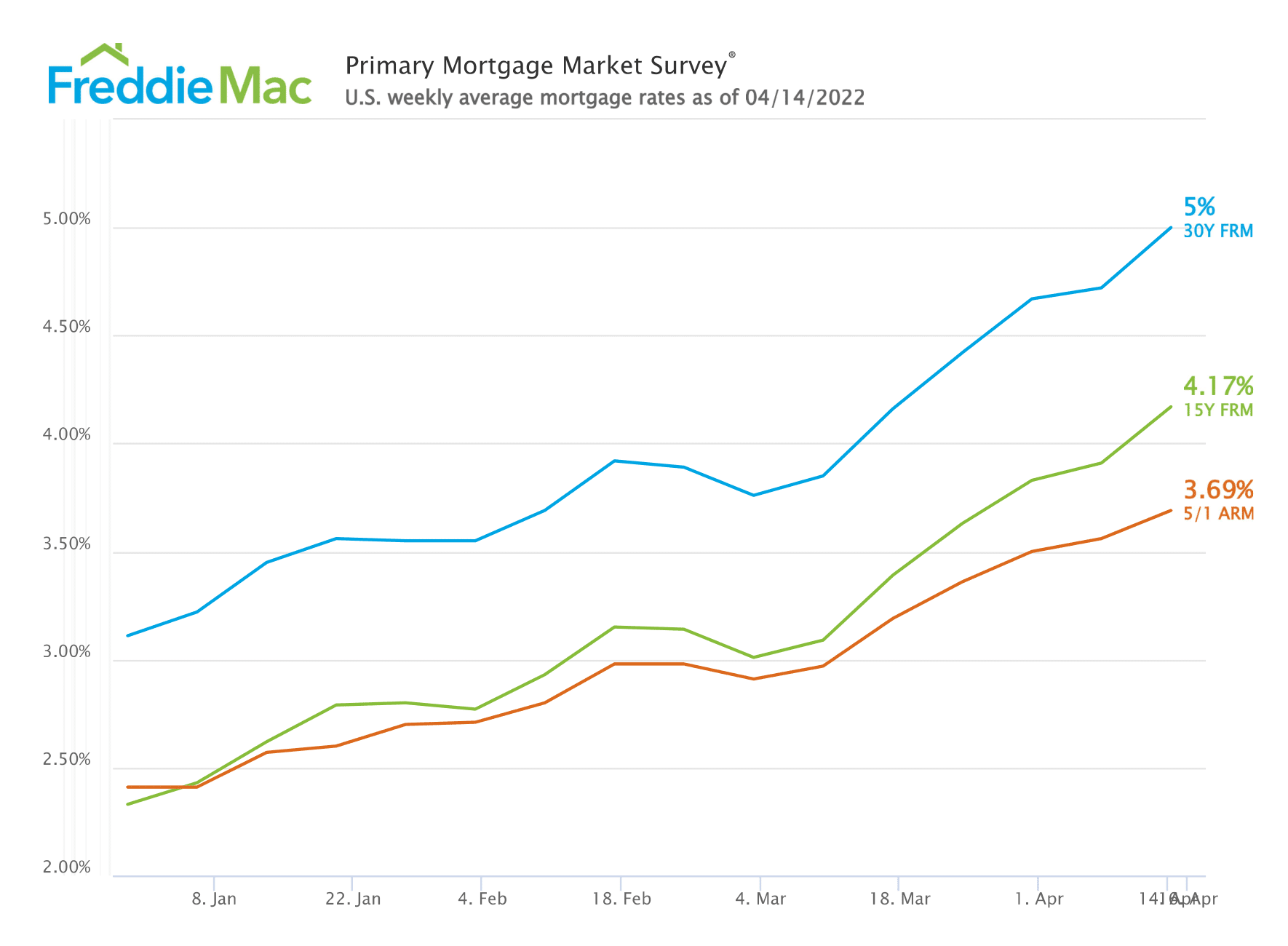 Here's the same chart of the last 50 years.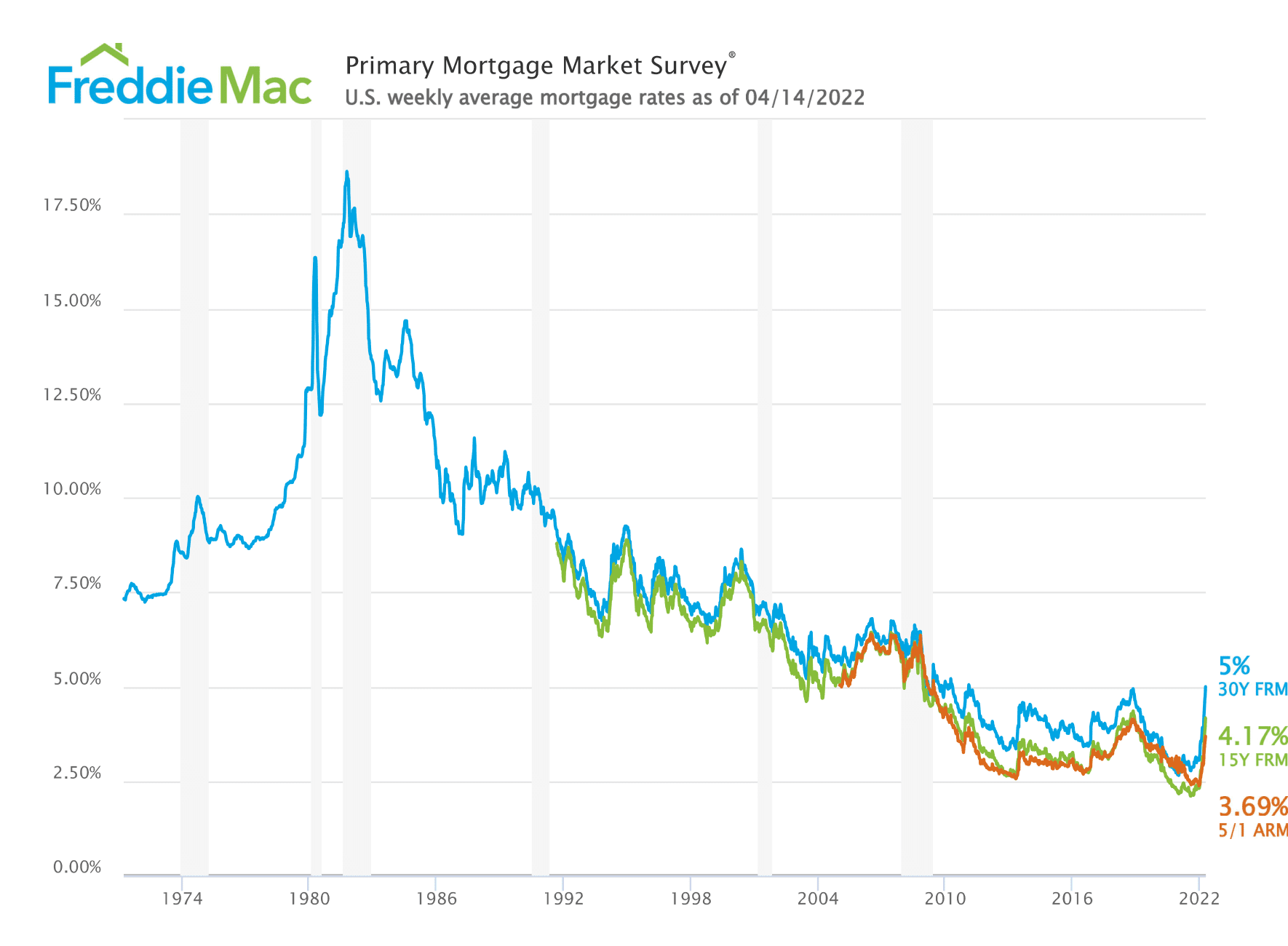 Rate hikes are not inconsequential. As rates move, homebuyers must adjust their expectations accordingly. This is not what most consider a fun talk at the dinner table.
But, on a macro scale, we could do worse. We have done worse. In fact, we were in about the same spot less than five years ago.
The last time rates neared five percent was November 2018. That month, the median SF home sale price was up three percent year-over-year. Then up another five percent a year later.
Over the long term, SF Bay Area real estate has been a pretty safe bet. If you expect rates to go higher, the smart choice may be to buy sooner rather than later. Many buyers are doing just that. And ask your friends who have owned their homes for a few years how often they have refinanced. Personally, we've refinanced 2 times in the past 4 years on our primary residence.
Whether you are crunching the numbers yourself or just here for the real estate banter, rest assured that the sky, for now, is still above our heads.
If you are in one of these categories, or if you plan to be (by gracefully aging, as one does), then head to our sister blog for a
deeper dive on Prop 19
. And definitely check with a CA real estate attorney or tax advisor before you make any serious moves!
As always, please don't hesitate to reach out with any real estate questions.
Contact us here
!
Bay Area Real Estate Updates
This article is an excerpt from our recent email newsletter. To get the next edition directly in your inbox, subscribe today for free! Our twice-monthly newsletters are always custom created and curated—and never spammy. We highly value your privacy, and we never sell or share your information.
Off the Presses

Articles Featured in the Vivre Real Estate Newsletter
JOIE de VIVRE

Events, Community & Things We Love
Dogfest 2022
A celebration of dogs, families, community, and spring in San Francisco, DogFest is back *in person* this Saturday 4/23, 11am-4pm at Duboce Park!
See all the events and vendors
.
Art Market
April 21-24, San Francisco's premier art fair returns to Fort Mason Center with 80 galleries and artists from around the Bay and the globe. Fair passes are $50, or pick a day for $25. Visit
Art Market SF
.
SF Film